Adult Martial Arts Classes At SMAA Now Feature Multiple Disciplines
Learn to master the technique of multiple disciplines with our Adult Martial Arts Classes at Sherbourne Martial Arts Academy. Designed for ages 13 and older, our highly skilled instructors work closely with students on Jiu Jitsu, Karate and Kobudo training for top-notch performance.
The Jiu Jitsu and Self-Defenses are mostly comprised of teachings from Royce Gracie (Simon Sherbourne's Jiu Jitsu teacher from 2004 - 2018) combined with years of high school wrestling, and other training with grapplers, wrestlers, judo-ka, etc. The Jiu Jitsu training is taught separately at the onset of training and then combined later in training to culminate in the execution of MMA skills (transitioning from Jiu jitsu to Karate/Striking, and vice versa). This is accomplished carefully, with attention to detail. Safety and exponential student growth are our priority at SMAA.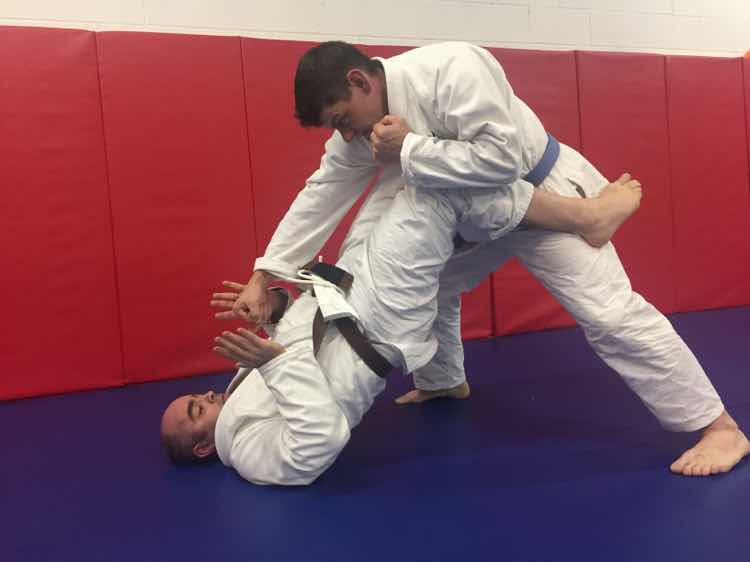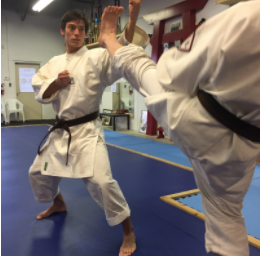 The Karate practiced at Sherbourne is directly from Okinawa, Japan and passed on from teacher to student over the last 300 years. The kata were developed so that techniques (waza) could be practiced in isolation with discretion as the ruling governments had banned any organized military training by locals.
Fundamentals include:
The "One Punch Finish": a reality with proper karate training
Leg kick/ front, side, round kick to the opponents' knee or thigh
Using distance and angle to manage your selection of techniques and movement (punches, kicks, throws, and finishing techniques)
Plus Try Kobudo (Weapons) Training With SMAA Adult Martial Arts Classes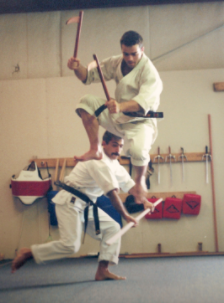 The Kobudo taught at SMAA is directly from Okinawa, Japan in its original format as was taught by Master Seikichi Odo to Senior Student Kyoshi Simon Sherbourne. The Knowledge passed on to Sherbourne occurred from 1987 to 2002 when Odo Sensei passed just 10 days after Sherbourne visited Okinawa to train with Odo Sensei for what ended up being their last training session together.
Sherbourne said the following about this trip, "We (Odo and Sherbourne) trained two to three times a day for the 10 days I was there. I just wanted Sensei to know that his teachings would carry on, so I did my best to demonstrate this to him each time we trained."
At SMAA, we pride ourselves on teaching our students the history and traditions of martial arts. Click HERE to check out the lineage of our school!
Join Today And Train With The Best
Whether you're interested in Karate, Kobudo or BOTH, we're excited to for you to join our Adult Martial Arts Classes in London. Fill out the short form on the right side of your page for more information. We'll see you at Sherbourne soon!