Master the Art of Kobudo at Sherbourne Martial Arts Academy
Sherbourne Martial Arts Academy gives you the unique chance to learn Kobudo in London!
Kobudo may not be as universally known as other forms martial arts, but it is an exceptional method of training that will greatly enhance your ability to defend yourself.
Not only this, but it is also a fantastic full-body workout!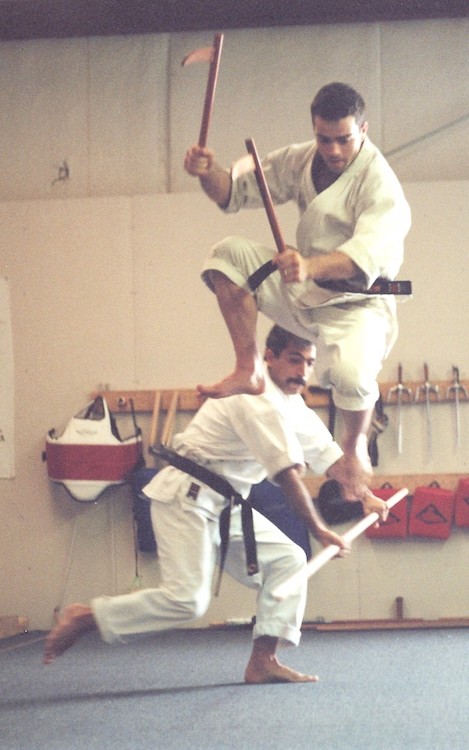 Hone Your Martial Arts Skills With Kobudo

Kobudo is a weapons-based martial art that improvises everyday items into tools for self-defense. From bicycle locks to cups of coffee, you will learn how to use your environment to your advantage in any situation.
At Sherbourne Martial Arts Academy, we also train with traditional Kobudo weapons, such as:
Bo (6-foot staff)
Sai (dagger-shaped truncheon)
Tunfa (Handled club)
Kama (sickle)
Tinbe/Rochin (shield and spear)
And more!
Learn the "Ancient Martial Way" at SMAA

Although having a foundation in empty-handed martial arts such as Jiu Jitsu or Karate is necessary for success in the art of Kobudo, we make sure everyone feels comfortable and is able to learn at their own pace.
Our system guides students from the basics to the most intricate katas. With the mastery of each kata, students are exposed to a variety of new skills and weapons. You'll be amazed at how much you're learning while having so much fun!

For more information on our Kobudo Lineage Chart, click HERE.

Don't Wait, Give Kobudo A Try Today!
Take your martial arts training to the next level at Sherbourne Martial Arts Academy. For more information on our Kobudo classes, just fill out the short form on the right side of your screen!