Comprehensive Self-Defense Classes At Sherbourne Martial Arts Academy
Enquire about Certification in three areas of Self-Defense at SMAA:
Module 1 - Standing Defenses against attacks from the front and from the back - (3 - ten class courses repeated if necessary)
Module 2 - Fundamental Defenses on the ground - (5 - ten class courses repeated if necessary)
Module 3 - Fundamental Defenses against weapons and improvised weapons attacks (knife, club, gun, etc.) - 1- ten class course repeated if necessary.
Whether you're training for self-protection or security detail, Self-Defense Classes at Sherbourne Martial Arts Academy offer comprehensive instruction that will equip you for any real-world conflict.
Our program will teach you strategies to address threats from both armed, and unarmed assailants, as well as multiple threat/attacker scenarios – scenarios that are very common in today's urban environment.
Our Head-To-Head training includes tactics to address weapons used at close range such as clubs, knives and firearms.
Learn Reality Driven Protection With Self-Defense Classes
At Sherbourne, we base our Self-Defense Classes around confrontations that can be common in everyday life. The governing concept of the program is that our principles and techniques must embrace a practical application of your knowledge to an imperfect world where we are exposed to aggression and violence – a world that you cannot always control.
We strive in our Self-Defense Classes to research and "stress-test" all of our techniques to ensure that they are viable in a variety of real-world encounters.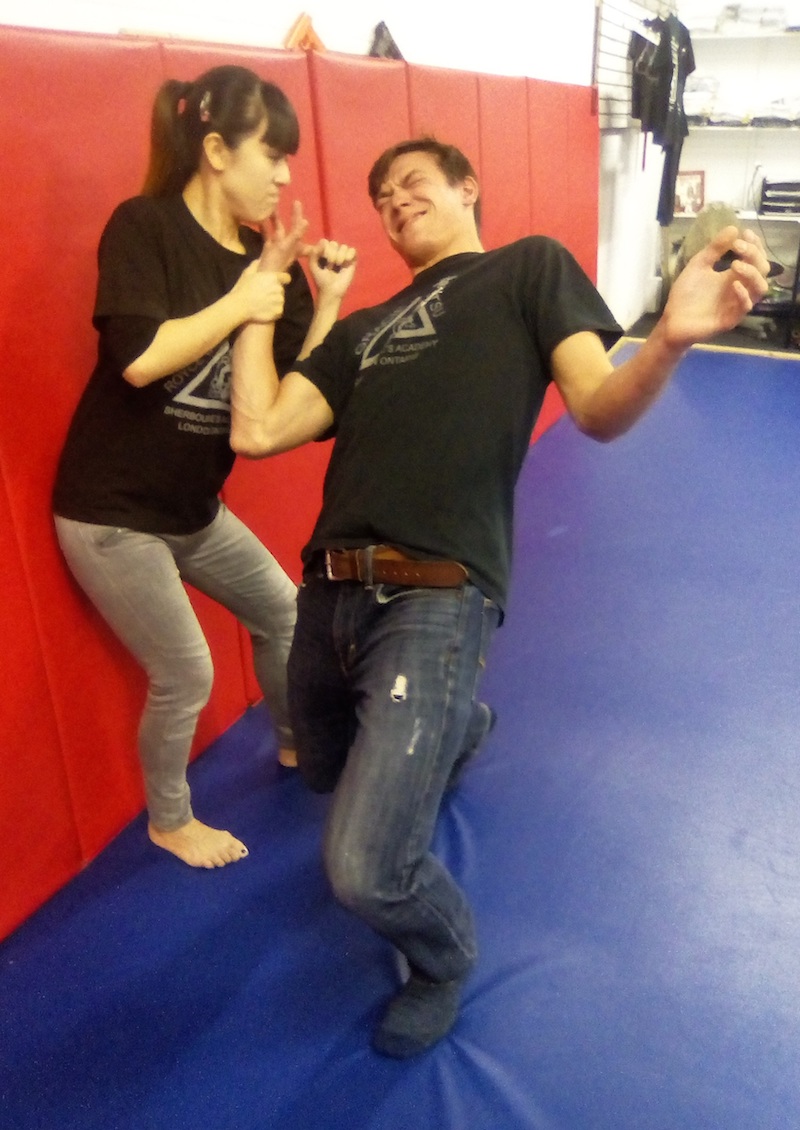 Just a few of our self-defense strategies include:
Avoid circumstances that place your personal safety at risk
Recognize the behaviors and situations that may pose high risk to your personal safety
Recognize the signs of an imminent attack; Strike pre-emptively to defend yourself if deemed necessary
Learn to defend yourself when assaulted with punches and kicks
Learn strategies and techniques to address assault with a knife, club, or a firearm
Learn how to avoid or escape takedowns, chokes, and various restraints and holds
Learn how to address/defend and escape once you have been taken to the ground
Get Started Today!
We're ready to help you prepare for the real world with our Self-Defense Classes at Sherbourne Martial Arts Academy in London. Simply fill out the form on the right side of your screen and let's get started!
SMAA is the Headquarters of the WKKJO. Please click here for more in-depth information and strategies to improve non-violent measures of self-protection.